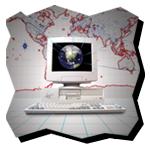 We Are a Full-service Provider - SDI WebLink is a premiere provider of web-based ecommerce and communications solutions for businesses and companies, associations, foundations and other for not-for-profits. We excel in site development projects from adding high-impact enhancements to existing sites, to building new sites from scratch, to overhauls and facelifts for older sites, to advanced custom application programming and web-to-business system integration.
Whether you are a company owner, association executive, CIO, marketing or communcation director,educator,tradeshow executive or meeting planner or any of numerous other positions in an organization, we can help you review your site needs and recommend cost-effective site design and development strategies.
Personalized, High-touch Client Relationships - Our clients value us for close, personalized interaction and relationships, quality work, quick turn-around times, and a commitment to understand your business and translate your needs to web design and functionality.
Breadth and Depth of Knowledge and Experience - Founded in 1990, our depth of experience ranges from not-for-profits, industrial firms, consumer product companies, and educational institutions and beyond. We understand the nature and needs of businesses and organizations and how they can be advanced on the Internet. We are advanced marketing strategists - we see and leverage the web as a marketing medium and as a platform to advance your business goals.
Leading Edge Site Technology and Design - We use the best tools available for designing, building and operating web applications. Our programmers are creative and expert, and can translate virtually any vision into an operating web system. Our graphic designers project your image on-screen with creative and attractive high-impact designs that both reflect and enhance your business image and style.
E-commerce - We offer proven systems for online product sales, online credit card approvals and payments, event registration, dues payments, and other commerce applications.
Maximum Site Owner Content Control - Our sites and high-impact web enhancements put you in the driver's seat for managing your own content - with plain-text editing from simple browser forms, with no need to learn programs or computer languages.
Top Server and Communications Infrastructure - Your site is hosted on high-performance servers with redundancy, daily backups, and high-speed connection to the Internet.
Site Marketing and Traffic Statistics - Our full-service, hosted sites are built to talk the language of the search engines. Continuous comprehensive statistics are always available on your site's visitor traffic.
Sign up to receive more information about SDI WebLink's design, development and hosting services. click here to start.

STRATEGIC DECISIONS, INC.
645 NORTH MICHIGAN AVENUE SUITE 800 | CHICAGO, IL 60611
(tel) 312-280-8833 | (fax) 312-280-9893 | info@sdiweb.com

http://www.sdiweb.com

© 2022 All rights reserved. Use of any material or graphics without explicit written
consent from SDI WebLink is a violation of Federal Copyright laws.